CARRIE NATION EXITS THE THEATRE…
And heads to the bar.
 Bringing the hatchet-wielding icon of the temperance movement quite literally to life, Brooklyn-based company
Opera on Tap
 presents its hit production of
James Barry's SMASHED: The Carrie Nation Story
 at the iconic Brooklyn watering hole and cultural hub 
Freddy's Bar and Backroom
 in a fully immersive, all-bar-encompassing version of the production.
"Anyone who experiences the absurd booze-opera will go happy and with a fully transformed view of opera."– Feast of Music
THURSDAY NOVEMBER 14th, 2013 – 8pm
627 5th Avenue | Brooklyn, NY 11215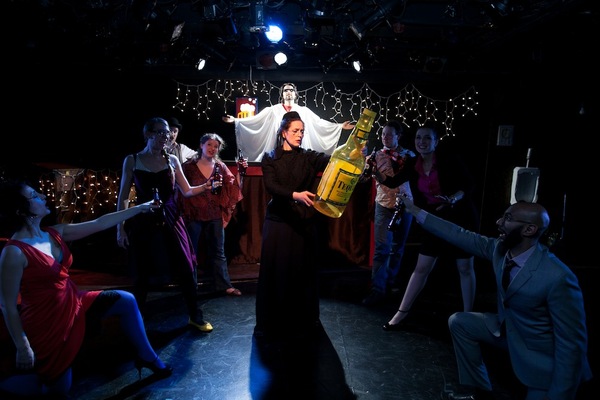 New York, NY – On November 14th, Brooklyn-based company Opera on Tap will bring its hit opera SMASHED: The Carrie Nation Story by composer James Barry and librettist Timothy Braun to Freddy's Bar and Backroom in a new fully-immersive production. Dubbed by Feast of Music as an "hilarious slapstick-style opera," the show will take place in Freddy's front room at 8pm and will be free of charge.
Giving a new spin to the operatic mainstay of the strong leading lady, SMASHED is an absurdist take on the life of Carrie Nation, a radical turn-of-the-century teetotaler who furthered her cause through vandalism –namely, attacking drinking establishments with a hatchet. With stage direction by Jenny Lee Mitchell (Founder of TheaterTHE), musical direction from Mila Henry (American Opera Projects), and costumes by Ramona Ponce, the production will feature Michael Bragg, Kayleigh Butcher, Joseph Flaxman, Seth Gilman, Christiana Little, Cameron Russell, Patricia Vital, Merlyn Wolf as the narrator, and Krista Wozniak as Carrie Nation.
Premiered at HERE Arts Center in April 2013, SMASHED was commissioned by Opera on Tap for the inauguration of its Roadworks Series. The series was created to promote new chamber works with a focus on American personalities and aims to provide immersive and entertaining work that is accessible to audiences who may otherwise be outside of the opera community. Future works include The Inner Circle, based on TC Boyle's novel about Alfred Kinsey, by composer Daniel Felsenfeld and librettist Kate Gale (set to premiere in 2014), and more to be announced.